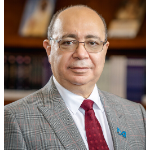 Dr Abdel Rahman Tawfik is Assistant Professor of Oral Surgery at the Hamdan Bin Mohammed College of Dental Medicine, MBRU. He has sound academic and clinical background in Oral Surgery and has over 20 years of experience in the field of Oral Surgery and Oral Medicine.
He graduated from King's College London and obtained a PhD on the prediction of oral cancer from the Eastman Dental Institute. He's worked as a consultant oral surgeon in the UK at NHS hospitals for over 15 years. Dr Abdel Rahman has a postgraduate diploma in conscious sedation from King's College, University of London. He also has vast experience in pain management, dealing with anxious patients and manage a variety of oral surgery cases under conscious sedation. He actively, contributes to the training of junior dentists in oral surgery, teaches at the Royal College of Surgeons of England "Primary Care Oral Surgery", and regularly lectures in international meetings.
Dr Abdel Rahman has a special interest in the following subjects:
Surgical removal of impacted wisdom teeth
Jaw and salivary glands cysts
Facial pain and axiety management
Mouth ulcers and precancerous lesions diagnosis and treatment
Maxillofacial infections management
Dental implants and maxillary sinus surgery
Conscious "moderate" sedation and managemnt dental phobia
Orthodonic surgery (frenectomy, tongue tie, canine exposure etc)
He is fluent in Arabic and English and happy to accept patients referral at his clinic at the HBMCDM from Saturday to Tuesday.
Academic Appointments
Mar 2016 - Present
Assistant Professor in Oral Surgery
Hamdan Bin Mohammed College of Dental Medicine, MBRU, Dubai Healthcare City, Dubai, UAE
Jan 2012 - present
FGDP tutor for the Diploma in Minor Oral Surgery
The Royal College of Surgeons England, UK
July 2007 - Nov 2015
Senior Clinical Teacher in Oral Surgery
King's Dental Institute, King's College & Guy's Hospitals London
Professional Education
2011
DipConSed
King's College London Department of Sedation & Special Care Dentistry, UK
2000
FFD RCSI
The Royal College of Surgeons of Ireland, UK
1999
MFD RCSI
The Royal College of Surgeons of Ireland, UK
1996
LDS RCS
King's College Dental School and Royal College of Surgeons of Edinburgh
1989
PhD
Eastman Dental Institute; London, UK
Teaching
Currently, responsible for the teaching and training or oral surgery residents, reponsible for providing and training IV (conscious sedation), teach and contribute to the basid and advanced implant course to all residents in prosthodontics, periodontics and oral surgery.
He also runs teaching and training course for nurses to be certified as assistant in conscious sedation.
He is a tutor for the Certificate of Minor Oral Surgery of the Royal College of Surgeons of England. Tutees watch at least 25 cases of varying MOS conditions, then operate on at least 25 MOS cases under my supervision, and do a minimum of 25 MOS cases on their own. He teaches surgical skills in a laboratory using sheep heads.
Previously, he provided training to junior dentists (DF1 & DF2) in all aspects of oral surgery under LA and GA. he also trains them on the management of anxious patients under IV sedation
He taught Oral Surgery, Oral Medicine, Oral Pathology & diagnosis to both undergraduate & postgraduate students for more than 15 years in both the UK and Middle East.
Regularly he is invited as a speaker at the International Dental Congress of Alexandria and Tanta universities.
Previously, he organised several scientific seminars and participated in clinicopathological conferences at the Eastman Dental Institute and Mount Vernon Hospital, England.
He ran regular training courses for 3 years in Oral Surgery for dental nurses at the Ora-Dental Group.
He has produced and presented TV programs (for Arabic viewers) on Dental Implants and Oral Surgery in London.
He attends regular CPD  teaching courses at King's College and the British Association of Oral Surgeons, which has helped in fine-tuning his teaching skills.
Honors and Awards
1986
JOEL Japan
Conference Award for XI th International Congress on Electron microscopy; Kyoto, Japan. Aug‑31 – Sep-7, 1986. Phagocytosis of Melanin Granules by Mast Cells. An Ultrastructural Study. Tawfik A M et al Proc Int Cong on Electron Microscopy. 11: 3547-3548
1989
Government Research Fund (Scholarship Award)
Mission Department, Egypt. Award of £70,000 for funding research project in Oral Premalignancy, at the Eastman Dental Institute London WC1X 8LD
Membership of Professional Bodies/ Associations
British Association of Oral Surgeons
Royal Society of Medicine, London
Association of Dental Implants (ADI)
British Association of Oral & Maxillofacial Surgeons.
Fellow Royal College of Surgeons of Ireland.
Research Interests
Oral premalignancy
Anxiety management using moderate sedation
Methodods in canine exposure for orthodontic management
Management of oral lesions using CO2 laser
Varying surgical techniques for wisdom teeth
Alternative techniques to bone augmentation for dental implant placement
Minor salivary gland cysts in children
Computer image analysis
Clinical and Community service
2012-present – Consultant Oral Surgeon, BMI Hendon Hospital, Hendon, London, UK
2012-present – Director of Oral Surgery Ltd; providing primary care oral surgery services
2011-2016 – Consultant Oral Surgeon, Royal South Hants Hospital, UK
2011-2015 – Senior Specialist Clinical Teacher in Oral Surgery, King's Dental Institute, University of London. UK
2013-present – Consultant Oral Surgeon, Specialist Dental Services, 94 Harley Street, London, UK
 2013-2016 – Consultant Oral Surgeon, Align and Smile, Unit 6 New Providence Wharf, Blackwall Way, UK
2012-2016 – Consultant Oral Surgeon, Senova Dental Studios, 10 Beechen Grove, Watford, Hertfordshire,  UK
 2008–2011 – Specialist Oral Surgeon, King's College Hospital, Department of Oral Surgery, Bessemer Rd., UK
 2002–2007 – Consultant In Oral Surgery, Edgware Community Hospital Burnt Oak Broadway, Edgware, Middlesex, UK
 1997–2006 – Trust Oral Surgeon, West Hertfordshire Hospitals NHS Trust, Vicarage Road, Watford, UK