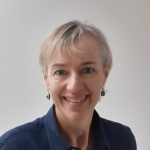 Iseult graduated from the Dublin School of Physiotherapy at Trinity College Dublin in 1983 and worked clinically in a variety of settings for a number of years. While studying for her MSc, Iseult was appointed as a lecturer in the School of Health Sciences (Ulster University) where she first completed the MSc and then her PhD. In 2018, Iseult accepted a Senior Lecturer position in the School of Nursing and Midwifery at Queen's University Belfast and was subsequently invited to be a member of the MBRU faculty in the College of Nursing and Midwifery in 2020.
Since 2002, Iseult has been involved in teaching and learning in Higher Education. She is a Fellow of the Higher Education Academy and she teaches on both undergraduate and post-graduate courses. Her research area is primarily about musculoskeletal health, and more recently, on the impact of surgery for cancer on the musculoskeletal system. Iseult is also interested in teaching and undertaking qualitative research, and has developed practical skills workshops for Masters and Doctoral level students planning to undertake qualitative research.
Academic Appointments
2018 - Present
Senior Lecturer
Queen's University Belfast, UK
2001 - 2018
Lecturer in Physiotherapy
Ulster University, UK
1983 – 2001
Various clinical positions as physiotherapist
Ireland and UK
Professional Education
1983
Diploma in Physiotherapy
Trinity College Dublin, Ireland
Teaching
2017 – present           Design and delivery of bespoke Qualitative Interviewing Skills series of workshops
2010 – present            Teaching at post-graduate (MSc and PhD) level (both UU and QUB)
2001 – present            Teaching at undergraduate level (both UU and QUB)
2010 – 2016                Placement Co-ordinator for Physiotherapy (UU)
2004 – 2006                Course Director MSc pre-reg Physiotherapy (UU)
Membership of Professional
HCPC: Health and Social Care Professions Council
CSP: Chartered Society of Physiotherapy
ISCP: Irish Society of Chartered Physiotherapists
FHEA: Fellow of the Higher Education Academy
Research Interests
Iseult has supervised five MSc and four PhD researchers to completion, and she is currently supervising four PhD researchers who are due to complete between 2020 and 2022. Iseult's specific research interests are:
Qualitative methodologies, specifically: study design and data analysis
Musculoskeletal pain and function in people post-surgery, specifically (a) surgery related to breast cancer; mastectomy and reconstruction surgery, and (b) stoma surgery.
Musculoskeletal pain and function in musicians, specifically Irish traditional musicians.
Clinical and Community service
Physiotherapy (basic grade, then senior) in a variety of clinical settings including teaching hospitals
Volunteer as an Independent Visitor with NIACRO (Northern Ireland Association for the Care and Resettlement of Offenders)