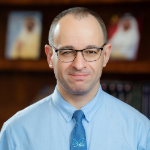 Leonard Lipovich, a pioneer in long non-coding RNA (lncRNA) biology of human disease, earned his B.A. from Cornell University and his Ph.D. from the University of Washington, Seattle.
He completed postdoctoral training at the Genome Institute of Singapore, where he discovered the first mammalian lncRNA functional in stem cell pluripotency.
Subsequently, while on the faculty at Wayne State University in Detroit, Michigan, he was the first to empirically reveal unexpected ribosomal translation of short open reading frames from lncRNAs in human cells.
In 2014, he received a U.S. National Institutes of Health (NIH) Director's New Innovator Award for his work on how primate-specific lncRNAs, which are not conserved in mammalian evolution, contribute to human breast cancer etiology.
His current focus is on identifying, and validating in the laboratory, lncRNAs from genome-wide association studies and personalized genome sequencing as novel causes of diabetes, cardiovascular disease, and metabolic disorders, and targeting them with personalized, RNAi-based therapeutics.
Academic Appointments
2020 - Present
Professor, Basic Medical Sciences Department
College of Medicine, Mohammed Bin Rashid University, Dubai, UAE.
2007-2020
Assistant, Associate, and Full Professor
Center for Molecular Medicine and Genetics (CMMG), Wayne State University, Detroit, Michigan, USA.
2006-2007
Adjunct Assistant Professor of Information Systems
Nanyang Technological University, Singapore.
2006-2007
Principal Investigator (Computational and Mathematical Biology)
Genome Institute of Singapore, Singapore.
Professional Education
2006
Postdoctoral
Genome Institute of Singapore, Singapore.
2003
PhD
University of Washington - Seattle, USA.
1998
BA cum laude (Genetics and Development)
Cornell University, USA.
Teaching
Teaching Human Genomics and Non-Coding RNA Biology to undergraduate students.
Teaching Human Genomics and Non-Coding RNA Biology to postgraduate students.
Mentoring undergraduate, Masters, and PhD students (research projects, dissertations).
Teaching the UCSC Genome Browser to peers, clinicians, postdocs, and students.
Honors and Awards
2019 - 2021
Founding Co-Chair, IEEE-BIBM annual Long Non-Coding RNA Workshop
MBRU
2018 - 2019
The Charles H. Gershenson Distinguished Faculty Fellowship
Wayne State University
2016
Golden Tiger Award (category: Exceptional Contributions)
CHARGE Consortium
2015
Chair, International Scientific Meeting on LncRNA
The Royal Society, U.K.
2015
Chair, Keystone Symposium on LncRNA
(with 2 Nobel laureates among my guest speakers)
2014 - 2019
NIH Director's New Innovator Award
2014
Invited speaker
Non-Coding RNA: from Basic Mechanisms to Cancer (Heidelberg)
2013 - 2014
Visiting faculty fellow / invited instructor
University of New South Wales (Sydney)
2012
Invited speaker
AACR Conference: Non-Coding RNAs (organizer: Phil Sharp)
2011
Invited session co-chair
International Congress of Human Genetics, Montreal
2010
Speaker and conference award recipient
HHMI, "From the RNA World to the Clinic"
Membership of Professional Bodies/ Associations
~ 10 NIH grant review panels (study sections)
UK MRC, Florida Dept of Health, Pennsylvania Dept of Health grant review panels (study sections)
IEEE BIBM LNCRNA Workshop – program committee member and co-chair.
CHARGE Consortium (Cohorts for Heart and Aging Research in Genomic Epidemiology).
ENCODE Consortium (Encyclopedia of DNA Elements).
FANTOM Consortium (Functional Annotation of Mammalian cDNA).
Research Interests
Long non-coding RNA (lncRNA) genes that cause human diseases.
Identification of disease-causing lncRNAs from Genome-Wide Association Studies, Whole-Genome Sequencing, and high-throughput cellular assays.
Experimental validation of lncRNA functions in human cancers, diabetes, cardiovascular diseases, and metabolic disorders.
Evolution-function relationships and phenotypes of primate-specific lncRNAs.
Host-pathogen RNA-RNA interactions, including those of human endogenous cellular RNAs with viral RNA genomes.
Targeting lncRNAs with individualized RNAi-based therapeutics for precision medicine.
Clinical and Community service
Chairing numerous conference sessions and entire international conferences in the lncRNA field and related biological fields.
Administration and service in 3 universities.
Teaching applied bioinformatics tools to clinicians, postdocs, and medical students.