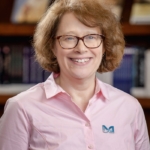 Lisa Jackson qualified from UCL (MBBS) and King's College London (BSc Nutrition).  She has experience in Public Health Nutrition including time in the Food Standards Agency (Nutrition Policy and research funding) in the UK.   She qualified as a specialist in Family Medicine (GP) in 1994.  She is an experienced under/post- graduate educator, including curriculum development for Norwich Medical School, UK.
Academic Appointments
2003 - 2019
Honorary Senior Lecturer
Norwich Medical School, University of East Anglia, United Kingdom.
Professional Education
2013
Postgraduate Certificate in Medical Education
University of Bedfordshire.
1998
Diploma in Therapeutics
University of Wales College of Medicine.
1987 - 1990
Clinical studies, MBBS.
University College & Middlesex School of Medicine.
1986-1987
Intercalated BSc Nutrition
King's College London.
Teaching
Experienced with:  Problem Based Learning, Consultation Skills (Calgary Cambridge Model), Motivational Interviewing, GP educator development and quality assurance of teaching for clinical placements, Postgraduate trainer for MRCGP,  Clinical Audit Tutor
Membership of Professional
1994   MRCGP
1994  JCPTGP certificate
2012  Fellow of the Association for Nutrition
2013  Fellow of Higher Education Academy
Research Interests
July 1996 – March 2000 Survey Doctor, National Diet and Nutrition Survey, MRC Dunn Nutritional Laboratories, University of Cambridge; known as Medical Research Council Human Nutrition Research from July 1998.
March 1999 – March 2000 Clinical Assistant to post study monitoring clinic for Norfolk arm of United Kingdom Prospective Diabetes Study
March 2000 to July 2002 Medical Secretary to Scientific Advisory Committee on Nutrition, Department of Health & Food Standards Agency, London, Nutrition Division
Clinical and Community
GP Principal and partner at Millwood Surgery, Bradwell, Great Yarmouth from 2014
General Practice Principal and partner, East Norwich Medical Partnership,  April 2003 until June 2014:  Special interests, Diabetes (including insulin initiation); obesity; child health and child protection; complex chronic disease in the elderly; undergraduate teaching in practice, postgraduate GP trainer
Former member of NIDM (Norfolk Integrated Diabetes Management Group), multidisciplinary group which allows networking and development of best practice in Diabetes
Consultant to Institute of Food Research (Now Quadram Institute), Human Nutrition Unit
Member of Human Research Governance Committee