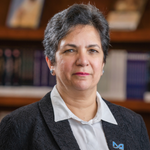 Prof. Ritu Lakhtakia, Professor of Pathology, graduated in Medicine, followed by clinical residency in Pathology from the Armed Forces Medical College, Pune, India. Her research in transgenic hepato-carcinogenesis during Ph.D at the All India Institute of Medical Sciences (AIIMS), New Delhi, merited the President's award of the Japanese Society of Hepatology. She sub-specialised in oncologic-pathology through fellowships at Tata Cancer Hospital, Mumbai, AIIMS and as a Fellow of the UICC at the Massachusetts General Hospital, Boston. She has been an academic-clinician in her alma mater and in medical schools in King Faisal University, KSA and Sultan Qaboos University (SQU), Oman; an anatomic pathologist in Oncology centres; and in administrative leadership capacities for over 25 years. She was Head of Pathology and Chair of the B.Sc Biomedical Sciences program at SQU. Her diagnostic expertise is in breast, soft tissue and bone tumors. Her research interests and publications span oncologic-pathology, cancer education and medical history. She is the founding Professor of Pathology at MBRU. She is the founding Chair of Student Assessment and Progression of the College of Medicine, MBRU from 2016-2021 and founding Academic lead for the Centre for Educational Assessment (CEA) at ieHPE She has been a supervisor for graduate and postgraduate research and served on the editorial board of several medical journals. She has a passion for student mentoring and counselling and is actively engaged with the community through cancer educational activities
Academic Appointments
2016-present
Professor (Pathology)
Mohammed Bin Rashid University Of Medicine and Health Sciences, Dubai, UAE
2010-2016
Assoc. Prof & Head of Department Pathology
College of Medicine & Health Sciences, Sultan Qaboos University, Oman
2009-2010
Professor (Pathology)
College of Medicine, King Faisal University, Saudi Arabia
2007-2008
Professor (Pathology)
Army Hospital (R & R) Delhi, India
2006-2007
Professor (Pathology)
Command Hospital, Lucknow
2002-2006
Associate Professor
Armed Forces Medical College Pune, India
2000-2002
Associate Professor
Army Hospital, Research & Referral (R&R) Delhi, India
1993-1998
Reader/ Associate Professor
Armed Forces Medical College Pune, India
1985-1988
Demonstrator
Armed Forces Medical College (AFMC) Pune, India
Professional Education
1999-2004
Ph.D (Pathology)
All India Institute of Medical Sciences, New Delhi, India
1985-1988
M.D (Pathology) (Specialisation in Anatomic pathology)
Armed Forces Medical College, Pune University, India
1978-1982
MBBS (Medical graduation)
Armed Forces Medical College, Pune University, India
1998-1999
Advanced Training in oncopathology
All India Institute of Medical Sciences, New Delhi, India
1994-1995
Fellowship in tumor pathology/Cytology
Tata Memorial Hospital, Mumbai
1997
Fellow of the International Union Against Cancer (ICRETT fellowship, UICC, Geneva)
Massachusetts General Hospital, Boston, USA
Teaching
Strategic academic planning as member of task forces
Academic leadership in curriculum and assessment policy and practice
Organiser and facilitator of faculty development workshops in education.
Medical, dental and allied health sciences graduate and postgraduate teaching
Research supervision of graduate and postgraduate students
Planning, training and assessment of histopathology residency training programs
Undergraduate and postgraduate examiner for MBBS, MD, B.Sc MLS, M.Sc and Ph.D programs
Student mentoring, advising, counselling
Student workshops for laboratory-based and research skills through student scientific bodies
Organising and conducting accredited training and workshops in pathology
Invited guest lecturer and panelist in other institutions and at conferences
Honors and Awards
2021
Community Engagement Award
Mohammed Bin Rashid Univesity of Medicine & Health Sciences Excellence Award
2020
Mutairu Ezimokhai Teaching Excellence Award
Mohammed Bin Rashid Univesity of Medicine & Health Sciences Excellence Award
2019 - 2020
MBRU - AlMahmeed Collaborative Research Award
2012-2016
Annual Awards for clinicopathological conference presentations (SCRAPS) at Sultan Qaboos University five times in the years 2012-2016 as principal presenter/ co-presenter/student-mentor
2001
President's Award for Best paper at the 4th Japanese Society of Hepatology meeting 2001
Shimonoseki, Japan
2000
Maj Gen Amir Chand Award 2000 for Best paper (first author)
1995
Lt Gen R S Hoon Award 1995 for Best paper (co-author)
Membership of Professional Bodies and Associations
Indian Association of Pathologists and Microbiologists (IAPM)
Indian Association of Pathologists and Microbiologists (IAPM)
Indian Society of Blood Transfusion and Immunohaematology (ISBTI)
Indian Academy of Cytologists (IAC)
Union International Contre Cancer (UICC), Geneva
Indian Society of Hospital Waste Management (ISHWM)
International Academy of Pathology-Indian Division (IAP-ID)
Armed Forces Oncology group
Oman Breast Cancer Society
Oman Pathology Society
Research Interests
Histopathology – focussed applied clinical research in tumors of the breast, liver, soft tissue. Funded and unfunded collaborative research and supervision of postgraduate research.
Medical education – addressing teaching methodology, assessment and innovative extracurricular pathways to interdisciplinary learning and mentoring
Medical history – covering a range of historical perspectives from individual achievements to oncologic disease groups. A commentary on lessons from history of medicine was the unique perspective in these publications.
Clinical and Community Service
Clinical
Strategic planning, Histopathology Laboratory administration and Quality control including EQA"s, peer reviews and audits as Clinical Head of Histopathology laboratories.
Twenty-eight years' experience in oncologic diagnostic anatomic pathology and cytology with special interest and focus on breast, lung, soft tissue and bone tumors with application of ancillary techniques of immunohistochemistry, immunofluorescence and electron microscopy in neoplastic and non-neoplastic pathology.
Synoptic reporting with use of data sets.
Intraoperative frozen consults and urgent reporting on One-stop Breast clinic FNAC's.
Running FNAC clinics independently.
Establishing and moderating tumor boards and MDT's.
Reviewing referred biopsy material.
Pathology autopsies.
Administrative
Chair Student Assessment and Progression at CoM MBRU (2016-2021)
Chair of academic and clinical departments of Pathology (Anatomic Pathology) and academic program (B.Sc MLS) at Sultan Qaboos University, Oman
Chair histopathology residency program examinations and research sub-committees, Oman Medical Speciality Board
Member hospital and college committees and boards
Member strategic task forces
Community
Health talks and promotion activities
School educational visits and career talks
Organising scientific exhibitions, medical debates
Cancer education promotion and breast cancer support groups
Media publications on health issues
Expert panelist in QS Excellence Roundtables and QS Rethink Tank addressing the impact of Covid-19 on education in 2020.
Pulse Day events for school students at MBRU – created and conducted simulated patient journeys
Facilitator of Virtual Open Days at MBRU during the Covid 19 pandemic