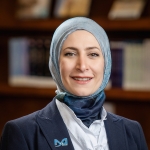 Dr. Samira obtained her degrees from Lebanon and Canada. After obtaining her Master degree in Orthodontics from Beirut – Lebanon, She began her career as a specialist Orthodontist in UAE, she then moved to Canada where she was assigned as clinical instructor at the orthodontic clinics at the University of Alberta and further received her Master of Medical Science (MSc) from University of Alberta, AB- Canada. Her research experience resides in exploring oral stem cells, in addition to seeking evidence based orthodontic practice.
Academic Appointments
2018- Present
Lecturer - Orthodontics
Hamdan Bin Mohammed College of Dental Medicine, MBRU, UAE
Professional Education
2018
Master in Surgery (Medical sciences)
University of Alberta, Canada
2010
Master in Dentistry (Orthodontics)
Beirut Arab University, Lebanon
2003
Advanced general dentistry certificate
Beirut Arab University, Lebanon
2002
Bachelor of Oral and Dental surgery
Beirut Arab University, Lebanon
Teaching
Teaching Orthodontics to dental students in the orthodontic clinics.
Mentoring and teaching summer residents how to extract stem cells from dental tissues in stem cell research lab.
Membership of Professional Bodies/ Associations
Education and Teaching license – ADA & C Alberta dental association and college (Alberta– Canada)
Specialist Orthodontist License:

UAE Ministry of Health
Dubai Health Authority
Dubai Health Care City
Lebanese Health Ministry Beirut – Lebanon
Research Interests
Stem cell research: extracting stem cells from oral tissues
Identifying gingival stem cell subpopulation and identifying their stem cell properties
Systematic reviews and meta-analysis: Evidence based orthodontics
Study of the effect of low intensity ultrasound on the function of osteoclasts
Clinical and Community service
Community service in Canada and UAE.