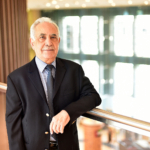 Riad  Bayoumi was educated in Khartoum and the UK. He has made important contributions to human genetics research in the Sudan, UAE and Oman. In the study of genetic diseases he was instrumental in mapping of Joubert Syndrome, Hereditary Spastic Paraplegia and Multiple Epiphyseal Dysplasia. He is currently involved in the study of genetic susceptibility to obesity, diabetes mellitus and the evolution of lactase persistence among large extended Arab pedigrees.
Academic Appointments
1977-91
Assistant, Associate and Full Professor
University of Khartoum, Sudan;
1991-98
Professor of Biochemistry
United Arab Emirates University;
1998-2014
Chairman, Clinical Biochemistry Department,
College of Medicine, Sultan Qaboos University, Muscat, Oman;
2015- to date
Chairman, Basic Medical Sciences Department,
Mohammed Bin Rashid University, Dubai Healthcare City, Dubai, UAE;
Professional Education
1967
MB BS.
University of Khartoum, Sudan.
1973
PhD (Biochemistry),
London University.
1975
MRCPath
Royal College of Pathologists, UK.
1995
FRCPath
Royal College of Pathologists, UK.
Teaching
Teaching Clinical Biochemistry and Genetics to undergaduate and postgraduate students over 30 years.
Honors and Awards
2004-13
Assessor of Third World Academy of Sciences Prize,
in Medical Sciences.
2001
Fellowship of the Third World Academy of Sciences (TWAS).
Fellowship
1997
Deutcher Akademischer Austauschdienst (DAAD) Visiting Scientist,
Humboldt University, Berlin, Germany.
1993
Danish Medical Research Council Visiting Scientist,
University Hospital, Copenhagen.
1990-91­
Wellcome Trust, UK. Senior Visiting Scientist.
University of Edinburgh, UK.
1986
International Atomic Energy Agency Fellow.
Cairo; Egypt.
1984-85
U.S. Public Health Service Research Fellow,
National Institute of Health; NIH, Michigan State University, USA.
1980
International Atomic Energy Agency Fellow,
Radioimmunoassay; Berlin; Germany.
1978
World Health Organization Fellow.
Medical Education Centre, Dundee, Scotland.
Membership of Professional Bodies/Associations
The World Academy of Sciences.
Biochemical Society, U.K.
Royal College of Pathology, U.K.
Sudanese Association of Biochemists, Khartoum.
Sudanese Association of Pathologists, Khartoum.
British Society for Parasitology.
African Soceity for Human Genetics.
Center of Arab Genomic Studies [CAGS], Sheikh Hamdan Prize, Dubai.
Research interests
Genetic Mapping: Mapping of single gene disorders and multifactional disease such as diabetes, hypertension and obesity.
Disease Associations:  Differential susceptibility of individuals to Cardiometabolic diseases.
Population Genetics : Blood genetic markers among different ethnic groups. Abnormal haemoglobins.  DNA polymorphisms as applied to haemoglobinopathies, antigenic diversity of plasmodia.
Phylogenetics of Lactase persistence among various ethnic groups.
Clinical and Community Service
Hospital Clinical Biochemistry Service in Sudan and Oman.
Adminstration and Service in 3 universities.
Community service in 3 countries; Sudan, UAE and Oman.