Program Summary
Study Type
Online, Part-time
Application Deadline
April 30, 2023
About the Program
This part-time, fully online MSc in Health Professions Education program aims to prepare working health professionals from all backgrounds with the ability to provide high-quality, evidence-based education.
The MSc in Health Professions Education program will provide you with the competencies you need to advance your career as an educator, leader and researcher in health professions education.
The part-time, online program will allow you to fit graduate studies around your work and life commitments while facilitating collaboration with your learner peers and faculty.
The overall aim of the MSc in Health Professions Education at MBRU is to educate leaders in Health Professions Education (HPE) in:
The theory and practice of HPE
Direct teaching knowledge and skills
Competencies to appraise and produce HPE scholarship
The skills to design, plan and implement a relevant HPE curriculum
The skills to support and encourage improvement of HPE
Graduates of the program are expected to have competencies in the following domains:
Design and Planning of Learning
Assessment of Learning
Teaching and Facilitating Learning
Educational Management and Leadership
Educational Scholarship and Evidence-based Practice
Graduates with a Master's of Science in Health Professions Education work in a variety of professional settings such as universities, healthcare organizations, and accreditation organizations. Job roles include faculty, educational leaders, and policymakers and educational researchers.
The Program Structure:
The graduate programs in Health Professions Education have been designed to be innovative, promote lifelong learning, access to education and flexible learning pathways. The graduate programs in HPE are designed and delivered as nested qualifications. This means that programs at the lower qualification levels are 'nested' within the programs leading to qualifications at higher levels. Learners enrolled in all 3 programs will learn with each other, achieve the same learning outcomes and be assessed in the same way. Students achieving a lower level qualification in HPE can apply the qualification toward the achievement of the higher level qualifications in HPE.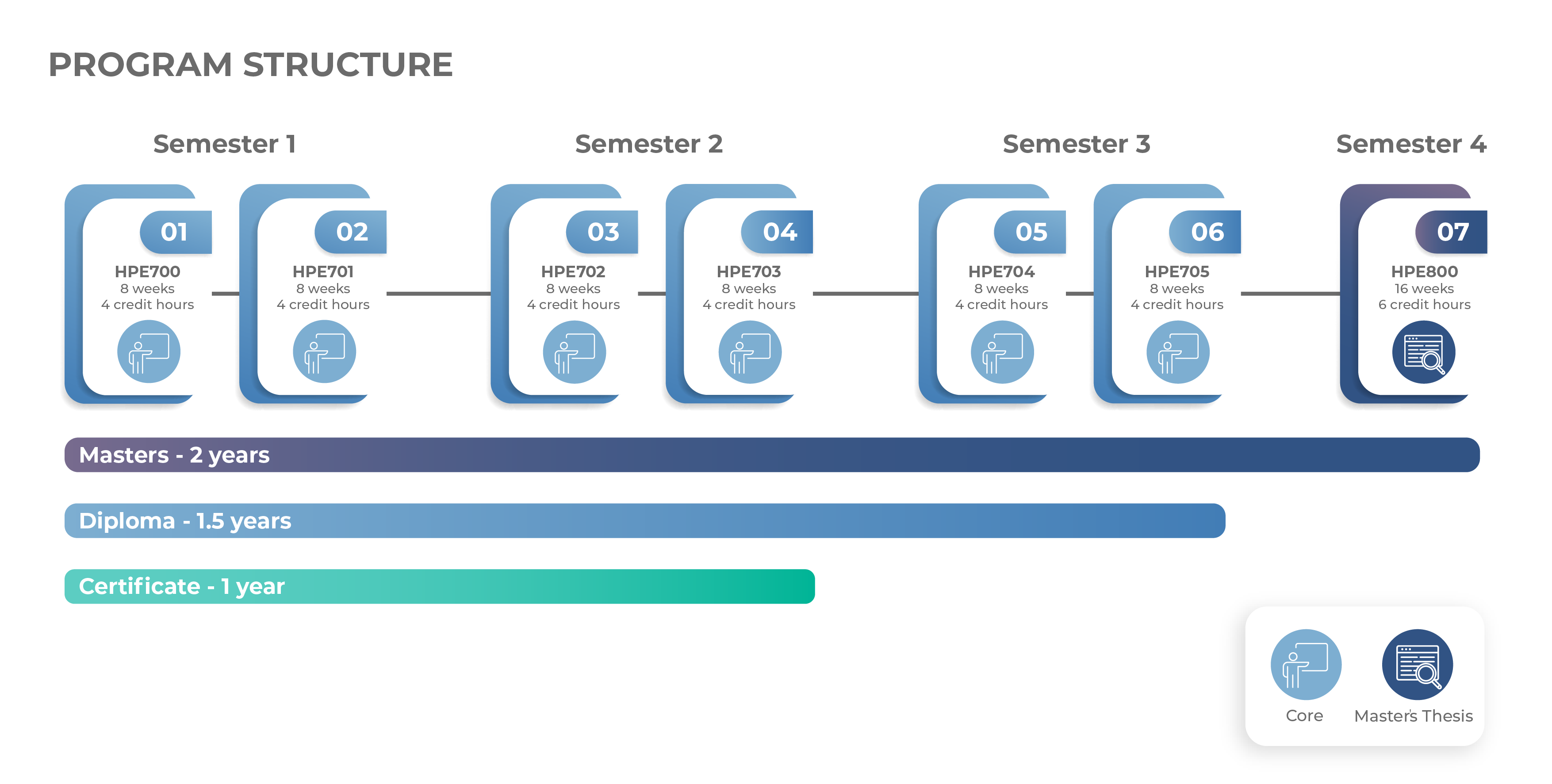 English Language Requirements
TOEFL
ITP 550
The original certificate must be submitted
Must have been taken within the last two years
'My Best Scores' will not be considered for admission purposes
Academic IELTS
Minimum of band 6 with no skill less than 5.5
The original certificate must be submitted
Must have been taken within the last two years
'My Best Scores' will not be considered for admission purposes
Transfer Admissions
Transfer of admissions will not be permitted
Transfer of credits will not be permitted
Additional Information
Letter of Motivation:  Applicants are required to submit a letter of motivation along with their application documents.
Motivation Letter:
At MBRU, we strive to ensure that our learners are a good fit with the university and their selected program.  That means we want to know more about you!  In 300 words or less, provide us with more insight about
your learning and professional journey so far,
why you are interested in the program,
how this program will support your professional advancement.
Tuition Fees
| | |
| --- | --- |
| Application fee | AED 1,000 + AED 50 (5% VAT) Non-refundable. Due at the time of application |
| Seat reservation fee | AED 5,000. Due upon accepting your conditional offer (Non-refundable) |
| Tuition fee | AED 75,000 |
Please note that the seat-reservation fee is non-refundable. For students who enroll in classes, the seat-reservation fee will be deducted from their 1st semester installment.
Top FAQ's
How can I apply?
Applications to the MScHPE, PGDipHPE, and PGCertHPE programs can only be submitted through our online application portal. Applications are only accepted during the open application period. Late and incomplete applications will not be considered after the deadline, and interested applicants are invited to apply for the next academic year. For your application to be considered complete, you will need to submit your online application, upload all supporting documents, and pay the non-refundable application fee of AED 1050 (1000AED + 5 % VAT).
How does the admission process work at ieHPE?
Please note that for your application to be considered, you must complete the online application, upload the required documents, and pay the application fee.  An experienced panel of MBRU faculty and staff will then review completed applications and shortlist qualified candidates. Selection will be based on the applicant's academic and professional credentials as well as the motivational letter. Ranked applicants will be sent conditional offers by mid-June.
What does the admissions committee evaluate when making admissions decisions?
Previous academic and/or professional experience are the main criteria for evaluation. However, communication skills and personality characteristics are also taken into consideration. English proficiency is a mandatory requirement.