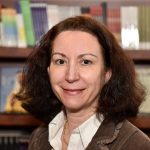 Dr. Aida Azar is an Associate Professor of Epidemiology at the College of Medicine, Mohammed Bin Rashid University of Medicine and Health Sciences (MBRU). She joined MBRU since its inception in 2016. In her current position, she is responsible for developing the Epidemiology, Biostatistics and Research Curricula for the entire MBBS program. This is integrated with the evidence-based approach. She is part of the MBRU vision of delivering high-quality education that places the student at the center of the learning experience to become a lifelong learner.
During Dr. Azar's scientific career, she was involved in various disciplines. She taught medical, nursing and health sciences students in various universities. She was part of a number of collaborative groups on writing Cardiovascular Guidelines. She initiated the first cardiovascular guideline using evidence-based medicine, in collaboration with the Cochrane Centre, The Netherlands (CBO/WHO/MOH). She was involved in various cardiovascular clinical trials. She was engaged in research that interacted with the specialists, government, national, international organizations, and ministries of health. Her dissertation on more than 3400 myocardial infarction patients was used as a reference by the Food and Drug Administration (FDA) to approve the long-term use of oral anticoagulant therapy in patients who had survived a myocardial infarction. Her research was worldwide used as a reference to define the optimal intensity of oral anticoagulants in post-myocardial infarction patients. She was also a contributor to the FDA report for the approval of coronary stenting for selective placement in selected patients to prevent restenosis after angioplasty. The results were a milestone in interventional cardiology.
Dr. Azar is fluent in four languages (written and spoken): Arabic, English, Dutch, and French.
Academic Appointments
2016 - present
Associate Professor - Epidemiology
College of Medicine, Mohammed Bin Rashid University of Medicine and Health Sciences, Dubai, UAE
2006 - 2013
Arabian Gulf University, School of Medicine, Manama, Bahrain
2007 - 2012
Royal College of Surgeons Ireland, Medical University Bahrain, Schools of Medicine and Nursing, Bahrain
2003 - 2006
Faculty of Health Science, University of Balamand, Beirut, Lebanon
1998 - 2000
Faculties of Medicine and of Public Health, American University of Beirut, Lebanon
1985 - 1997
Erasmus University Rotterdan, Thoraxcentrum, The Netherlands
Professional Education
1997
Post Doctorate
National Committee for Medical-Biological Research Training in the Netherlands. Post Doctorate studies granted in the field of Clinical Epidemiology
1993
Doctorate, Concentration in Clinical Epidemiology
Medical Faculty, Erasmus University of Rotterdam, The Netherlands
1985
Master of Public Health, Concentration in Epidemiology - Biostatistics
American University of Beirut, Lebanon
1983
Bachelor of Science, Major in Biology
American University of Beirut, Lebanon
Teaching
Teaching Principles of Epidemiology and Biostatistics to undergaduate and post-graduate.
Initiated the first course of Clinical Trials (American University of Beirut).
Mentoring Masters and PhD students.
Teaching Evidence Based Medicine.
Honors and Awards
1998
Marquis Who's Who in the World
5th edition, 1998 Reed Elsevier Inc., New Providence, NJ 07974 U.S.A.
Research Interests
Chronic diseases: identifying indicators for the risk of developing chronic diseases and in particular heart diseases in the UAE population.
Clinical and Community Service
Community service in The Nethelands, Lebanon, Bahrain, and UAE