Topic: Combined Fixed Removable Prosthesis/Telescopic prosthesis
Abstract:
Fixed removable prosthesis is a unique type of oral prosthesis used for rehabilitation of partially edentulous cases on the remaining natural teeth and/or dental implants. It consists of fixed restorations cemented o the remaining natural dentition or dental Implants and the removable part attached with special precision or semi precision attachment to restore the edentulous part of the jaw. This type of the prosthesis designed to restore: 1- dentition with reduced number of abutment teeth but not suitable for FDP, 2- partially edentulous cases with residual rest dentition of 3-5 remaining teeth, 3- periodontal evolved dentition as abutment for the RDP, 3- Partially edentulous cases require better retention and stability of the removable dental prosthesis and 5-patients seeks better Aesthetic outcome with removable Dentures. This type of restoration needs special treatment protocol and clinical treatment steps as well as high technical abilities. Telescopic prosthesis has the following advantages: High Patient comfort, Axial loading, Integration of support, retention, and reciprocal function in one element, easy for addition in cases of extraction of abutment teeth, easy to design the RDP and require simple oral hygiene measures.
| | |
| --- | --- |
| CPD Accreditation #CPD-21-0061 | 1.5 CPD Points |
Learning objectives: 
To differentiate between the different type of RDPs
To learn the clinical indications of the different type op RDPs
To learn the clinical steps for the treatment with fixed removable restoration
Meet the speaker: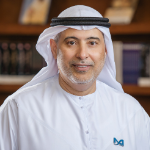 Dr. Abuzayeda is currently an Associate Professor in Prosthodontics At MBRU, he is a Diplomate German Board specialist in Prosthodonticcs (DGZpro, Germany). After obtaining his doctorate degree ( Dr.med.dent) in year 2000 from the RWTH University (Aachen, Germany) he subspecialized in Oral Implantology at FSU University, Jena, Germany. He is holding a Certificate in Medical Education (Keel, UK). Dr. Abuzayeda worked as Assistant Professor at RWTH University ( Aachen, Germany) then he was appointed as  consultant in Prosthodontics and Oral Implantology at Dubai Health Authority.His main interest is in the fields of fixed, removable restorations, esthetic dentistry and Oral Implantology.
Register here