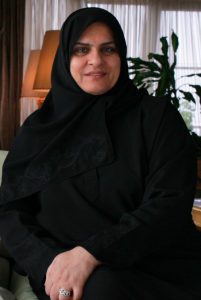 Before we play out our ambition on the world stage of academia, we are preparing for a humble yet definite role for the Mohammed Bin Rashid University of Medicine and Health Sciences, Dubai Healthcare City's first medical university.
While we are focused on our goal to achieve global university rankings, our single-minded pursuit at present is focused on only one thing – academic reputation.
Mohammed Bin Rashid University of Medicine and Health Sciences was born with its own history. One could argue, how can a new university claim to have any historical significance? To answer this, I must transition into the back story. Let's start with the location.
The University is located within the Mohammed Bin Rashid Academic Medical Center. Both physically and conceptually, the Academic Medical Center represents an integrated environment with its medical education entities and infrastructure in situ. This includes an auditorium, education suites, and lecture halls.
The Academic Medical Center was officially inaugurated in 2013. By this year, its medical education entities – Al Maktoum Medical Library and Khalaf Ahmad Al Habtoor Medical Simulation Center – were already operational. As was the college for postgraduate dental specialization, which also includes a clinical arm.
Located close to Mohammed Bin Rashid University of Medicine and Health Sciences (MBRU), another project was also taking shape – a biomedical research institute, Al Jalila Foundation Research Center.
With all other elements of an integrated environment in place, we were ready to announce the launch of our medical university with two colleges – the existing Hamdan Bin Mohammed College of Dental Medicine for postgraduates, the College of Medicine for undergraduates, as well as our affiliation with a research entity.
In 2014, the University was established and blessed with the name of His Highness Sheikh Mohammed Bin Rashid Al Maktoum, Vice-President and Prime Minister of the UAE, and Ruler of Dubai. In January 2015, we signed an academic partnership with Queen's University Belfast, one of the UK's leading research-intensive universities.
In January 2016, just three years after the inauguration of the Academic Medical Center, we achieved initial accreditation from the Ministry of Education for the Bachelor of Medicine and Bachelor of Surgery program at the College of Medicine. The first student intake was accepted in August 2016.
Back to the present. We already have a thriving clinical community within Dubai Healthcare City, which is a great environment for future graduates and postgraduates. MBRU will continue to establish collaborations with strategic healthcare and academic institutions both in the UAE and around the world.
We continuously strive to provide the highest teaching standards and focus on appointing leading international, regional and local faculty. The aim is to create an ideal learning environment.
In due course, we will achieve diversity on campus, a high density of research students, and stake a claim to becoming the significant research center both in this region, and on the world stage. As I mentioned in the beginning, we have started this journey through our keen focus on building an enviable academic reputation.
H.E. Dr Raja Al Gurg
Vice-Chairperson of MBRU Board of Trustees & Vice-Chairperson of Dubai Healthcare City Authority Board of Directors