Topic: Management of Dental Phobia at Hamdan Bin Mohammed College of Dental Medicine: What works for whom?
Abstract:
Anxiety and phobia are very common among dental patients, especially those attending for oral surgery procedures, and this can be a major problem for both the patient and the dentists.
The cause of phobia is deep-rooted and is often initiated from a stressful previous experience. Sometimes, the patient cannot recall why they are phobic about specific issue and usually, they have no control over it. This category of patients may never visit a dentist or will only do so when they are in extreme pain. The management of such patients becomes a challenging task and requires specific skills and procedures.
This presentation appraises both cognitive and pharmacological methods in managing phobic patients and discuss the importance of controlling pain and anxiety in modern practice of dentistry.
| | |
| --- | --- |
| CPD Accreditation #CPD-0025-21 | 1.5 CPD Point(s) |
Learning objectives: 
Shed lights on varying techniques of anxiety management
Appraise different types of sedatives that can be safely used with anxious patients
Demonstrate the requirements needed to set up conscious sedation facilitie
Meet the speaker: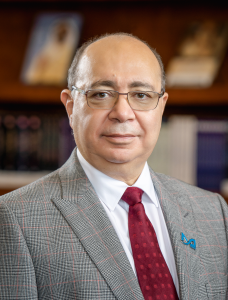 Dr Abdel Rahman Tawfik is an assistant professor in oral surgery at MBRU and registered with DHCA as a consultant oral and maxillofacial surgeon.
He graduated from King's College London and undertook a PhD on the prediction of mouth cancer at the Eastman Dental Institute. He has worked, at consultant level, at several hospitals in the UK and actively contributes to the training of junior dentists and postgraduates in the UK and Dubai.
Abdel Rahman has a postgraduate degree from King's College London in conscious sedation, well experienced in dealing with anxious patients, and regularly performs a variety of surgical procedures, effectively, under intravenous sedation.
His interests include facial pain, surgical management of impacted wisdom teeth and jaw cysts, mouth ulcers and jaw infections, dental implants including bone grafting and sinus surgery, and management of facial pain and anxiety. View full profile 
Register here