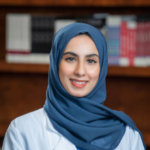 Abeer Hakam obtained her Dental degree from Saudi Arabia. After that, she moved to the United States for a one-year internship program in Periodontology and Implant Dentistry. Then she completed her residency at University of Florida and is currently a Diplomate of the American Board of Periodontology and Dental Implant Surgery.
Academic Appointments
2022 - Present
Assistant professor
Mohammed Bin Rashid University of Medicine and Health Sciences, UAE.
2017 - 2020
Pre-Doctoral supervised teaching in clinical periodontology
University of Florida, USA.
Professional Education
2021
American Board of Periodontology (ABP) Certification
USA
2020
MS
University of Florida, USA
2020
Certificate of Advanced Graduate Study (CAGS)
University of Florida, USA
2014
BDS
Ibn Sina National College for Medical Studies, KSA
Honors and Awards
2020
Certificate of appreciation for outstanding presentation
Florida Association of Periodontology winter meeting
2019
1st place award for excellence in research
Spring synergy - University of Florida
2014 - 2020
King Abdulla scholarships Program
Ministry of Higher Education
2007 - 2014
National educational grant program
Ministry of Higher Education
Membership of Professional Bodies/Associations
American Dental Association (ADA)
American Academy of Periodontology (AAP)
Florida Association of Periodontology (FAP)
Saudi Society of Periodontology (SSP)
Research Interest
Tissue engineering – Platelet-rich fibrin (PRF)
Osseointegration Pharmacology
Medication effect on different periodontal tissues
Clinical and Community Service
External examiner for Periodontology licensing exam [The Ministry of Health and Prevention (MoHAP) and the Emirates Health Services (EHS)