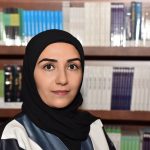 Dr Amir Rad is currently working as a certified lecturer and specialist in Prosthodontics providing exemplary patient services related to ceramic fillings, crown and beridges, implant restorations, dentures, veneers, TMJ disorder treatment and multi-disciplinary patient care.
She is clinical instructor of the prosthodontic postgraduate residents. She is lecturer in prosthodontics department.
Dr. Amir Rad is conversant in Arabic, English, Persian and French.
Academic Appointments
2017
Lecturer in Prosthodontics
Hamdan Bin Mohammed College of Dental Medicine, UAE
Professional Education
2004
Dental degree (DDS) with honours
Shiraz University of Medical Sciences, Iran
2011
Certificate in Advanced Graduate Studies in Prosthodontics (CAGS) and Master of Science (MSD) in Prosthodontics
Boston University Insititute for Dental Research and Education, UAE
Teaching
Speciality Clinical Training: Clinical supervision of Prosthodontcs residents in fixed, removable, and implant Prosthodontics
Complete Dentures: Teaching Didactic Course
Dental Biomaterials: Teaching Didactic Course
Aesthetic Dentistry: Teaching Didactic Course
Membership of Professional Bodies and Associations
UAE Dental Society
American Dental Association
Research Interests
Dental Epidemiology
Dental Education
Dental Biomaterials
Clinical and Community Service
Fixed Prosthodontics problems comprising patients with failed crown and bridgworks, advanced toothwear necessitating restorative approach, inlays and onlays, hypodontia requiring oseointegrated implants, esthetic problems.
Removable Prosthodontics including management of complex and partial removable prostheses, hypo/oligodontia requiring implant-retaned removable prostheses.
Member of community service committee