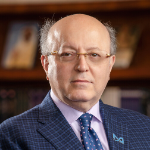 Professor El-Tamimi is a clinician and clinical scientist with experience from leading institutions in the United Kingdom, United States of America, and the UAE. He is a graduate of the American University of Beirut and Al Azhar University. He completed his training in Internal Medicine at Leeds General Infirmary, University of Leeds, and in cardiology at The Royal Post-Graduate Medical School, University of London and the Hammersmith Hospital, London. He then moved to the United States and served on the faculty of the University of Florida, the University of Texas – Texas Heart Institute, Houston, and Michigan State University where he was a Professor of Medicine and Cardiology and Director of the Cardiovascular and Prevention Center. Currently, he is Head of Cardiology Department at Mediclinic Parkview Hospital in Dubai in addition to his position as Professor of Cardiovascular Medicine at MBRU. He has numerous peer reviewed publications and book chapters, and his previous work include seminal studies on coronary endothelial dysfunction published in leading peer-reviewed journals.
Academic Appointments
2018 - Present
Consultant and Head of Cardiology Department
Mediclinic Parkview Hospital, UAE
2016 - Present
Professor of Cardiovascular Medicine
Mohammad Bin Rashid University of Medicine and Health Sciences, UAE
2014 - 2018
Consultant Cardiologist
Al Zahra Hospital Dubai, UAE
2009 - 2012
Consultant Cardiologist, Chairman of Scientific Council, and Director of Cardiology Fellowship and Training Program
Al-Bassel Cardiovascular Center, Ministry of Health, Syria
2004 - 2008
Director General and Consultant Cardiologist
Cardiovascular and Surgical Center, Aleppo University, Syria
1999 - 2002
Professor of Medicine and Director
Cardiovascular and Prevention Center, Michigan State University, USA
1996 - 1998
Associate Professor of Medicine and Director
Cardiovascular and Prevention Center, Michigan State University, USA
1994 - 1995
Assistant Professor of Medicine - Division of Cardiology
University of Texas Houston, USA
1991 - 1994
Instructor in Clinical Medicine - Division of Cardiology
University of Florida, USA
1987 - 1991
Senior Lecturer in Cardiology - Cardiovascular Unit
Royal Postgraduate Medical School, University of London, UK
Professional Education
1986
MSc-Cardiology
University of London, Royal Postgraduate Medical School, UK
1982
MD
Al-Azhar University, Egypt
1976
BSc
The American University of Beirut, Lebanon
Teaching
Teaching medical students, medical and cardiology residents both at the bedside and lecture theatre.
As a Director and clinical tutor of the postgraduate Diploma in Cardiology at the University of London, Professor El-Tamimi  was responsible for student selection, setting up curriculum, examinations and bedside teaching.
As a head of clinical research center at The University of Florida, mentored many undergraduate student, medical resident and cardiology fellow to learn and participate in clinical research.
As a director of the cardiology fellowship program, oversee cardiology fellows daily learning and training which involved morning reports, discussing clinical cases. Formal weekly curriculum lectures and teaching and management rounds.
Honors and Awards
2006
Certificate of Recognition of Excellence
Aleppo University Cardiovascular Center, Syria
1994
The Hippocratic Award (Best Teacher Award)
University of Florida, USA
1985
The John Goodwin Award in Recognition of Excellence in Cardiology
The Royal Postgraduate Medical School, Hammersmith Hospital, UK
1975
Distinction and First-Class Honors List
The American University of Beirut, Lebanon
Membership of Professional Bodies/Associations
Fellow, The Royal Society of Medicine, London
Fellow, The New York Academy of Science
Fellow, The American College of Cardiology
Fellow, The European Society of Cardiology
Fellow, The American Heart Association
Fellow, The American Society of Echocardiography
Founding Member, The Syrian Cardiac Association
Member, The American Medical Association
Member, Emirates Cardiac Society
Research Interests
Mechanism of pain in myocardial ischemia.
Coronary vasospasm and manifestation of ischemic syndromes
Effects of calcium antagonists and beta-blockers on coronary circulation
Restenosis after coronary angioplasty.
Coronary hemodynamic and angiographic response to various stimuli.
Vascular biology: role of endothelium in hypertension and hyperlipidemia.
Patterns of care in patients with myocardial infarction and unstable angina.
Clinical and Community Service
Visiting professor to lecture in many prestigious institutions around the world
Involved in 2 educational videos on how to do and interpret stress testing and Holter monitoring which were distributed as teaching tools in the UK.
Public awareness seminars of cardiovascular risk factor by testing for blood pressure, diabetes and cholesterol levels in hospitals, companies and recently at MBRU.