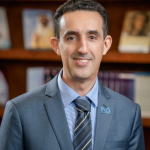 Professor of Medical Education and Senior Director - Institute for Excellence in Health Professions Education
Nabil Zary
Nabil.Zary@mbru.ac.ae
Dr. Nabil Zary is the senior director of the Institute for Excellence in Health Professions Education (ieHPE) at the Mohammed Bin Rashid University of Medicine in Health Sciences (MBRU) in Dubai, UAE. He has a background in medicine, technology, and education. He received a bachelor's in medicine and a doctoral degree in medical sciences at the Karolinska Institute in Sweden. He is active in investigating the potential of emerging technologies in the context of digital health education – with a particular interest for serious games, extended realities, artificial intelligence, technology standards, and ubiquitous learning approaches for patients and the healthcare workforce. Along his professional journey, he has gained experience at strategical/tactical/levels of impactful transformations that have been translated into actionable understanding, expertise, and leadership in complex contexts.
Academic Appointments
2019 - Present
Professor - Medical Education
Mohammed Bin Rashid University of Medicine and Health Sciences, Dubai, UAE.
2016 - 2019
Visiting Associate Professor
Lee Kong Chian School of Medicine, Nanyang Technological University, Singapore.
2012 - 2019
Associate Professor
Karolinska Institute, Sweden
2009 - 2011
Assistant Professor
Karolinska Institute, Sweden
Professional Education
2007
PhD (Medical Education/Simulation)
Karolinska Institute - Stockholm, Sweden
1999
BSc Medicine
Karolinska Institute, Sweden
1990
BSc Biomedical Laboratory Sciences
Karolinska Institute, Sweden
Teaching
Program director and teacher in Master's of Science in Health Professions Education (MScHPE)
Program director and teacher in Postgraduate Diploma in Health Professions Education (PGDipHPE)
Program director and teacher in Postgraduate Certificate in Health Professions Education (PFCertHPE)
Membership of Professional Bodies/Associations
Association for American Medical Colleges (AAMC) – member of the Medbiquitous Steering Committee
International Association for Medical Education (AMEE) – member
Association for the Advancement of Artificial Intelligence (AAAI) – member
The Immersive Learning Research Network (iLRN) – member
Institute of Electrical and Electronics Engineers (IEEE) – member
Research Interests
Artificial Intelligence in Medical Education
Educational neurosciences
Learning health sciences
Immersive Experiences (Virtual/Augmented/Extended realities) for Learning and Assessment
Technology standards in Health Professions Education
Learning and academic analytics
Clinical and Community Service
Editor in Chief – JMIR Medical Education
Editor in Chief – JMIR Serious Games