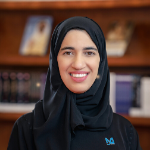 Dr Al Gurg is the Director of Strategy and Institutional Excellence and a member of the Health Policy faculty at Mohammed Bin Rashid University of Medicine and Health Sciences (MBRU). She graduated from the University of Sharjah, UAE with a BSc in Medical Lab Technology in 2004, before being awarded master's degrees from both King's College London, UK and the Royal College of Surgeons in Ireland, Dubai Campus, UAE. She subsequently undertook a PhD at the University of Bradford, UK, investigating 'The factors that influence nutrition intervention in the United Arab Emirates' healthcare system'.
Prior to her appointment at MBRU, Dr Al Gurg was Adjunct Faculty in the Health Science Department, Zayed University, Dubai and a Senior Executive of Medical Affairs at Dubai Health Care City, UAE.
Dr Al Gurg has been awarded several noteworthy accolades including the 'Best presentation at the E-health conference (HBMEU)' in 2009, the Sheikh Rashid award for 'Outstanding scientific research' (2016) and, this year, an 'Inspiring women in healthcare' award.
Academic Appointments
2017 - Present
Faculty - Health Policy
Mohammed Bin Rashid University of Medicine and Health Sciences
2008 - 2010
Adjunct Faculty - Health Science Department
Zayed University, UAE
Professional Education
2016
PhD
University of Bradford, UK
2011
Post graduate Diploma (Research Methods)
University of Bradford, UK
2009
Msc Health Management & Leadership
Royal College of Surgeons in Ireland, UAE
2005
Msc Human Nutrition Project: Nutri-genomics
King's College London, UK
2004
Bsc Science in Medical Lab Technology
University of Sharjah, UAE
Teaching
Teaching Nutrition Lifecycle to undergraduate students.
Teaching History of Medicine to undergraduate students
Honors and Awards
2019
Inspiring Woman in Healthcare Award
2018
Best paper presentation on lifetime of Sheikh Zayed and Healthcare milestones
2016
Sheikh Rashid awards for outstanding scientific research
2009
Best presentation award
E-health conference (HBMEU)
2008
DHCC World largest breast cancer awareness campaign
Research interests
Health systems
Nutrition
Health Policy
Nutrigenetics
Nutrigenomics
Awareness Programs planning monitoring and evaluations
Resilience
Clinical and Community Service
Public awareness campaigns, school visits and authorities
Volunteering in education and literature
Consultancy with health authorities
Member of National Committee for mother and child health
Member of Non – communicable disease Committee (MOH)
Member of Sharjah Child and Safety Center
Member of Sharjah Learning Difficulties Center
10 year Dubai reading plan committee