Topic: Removable Prosthodontics: Complete Denture and Implant-supported Overdentures
Abstract
Complete dentures have been the prosthetic treatment of choice for edentulism for many years and are indicated for the rehabilitation of edentulous patients to provide comfort, aesthetics, occlusal and facial support, masticatory function and to improve the speech. Advances in implant dentistry and the introduction of implant-supported overdentures have significantly improved the patients' satisfaction and quality of life, especially in patients with resorbed alveolar ridges where the retention and stability of the conventional complete denture is compromised. This lecture will cover the important aspects of complete denture treatment including implant-supported removable prostheses.
| | |
| --- | --- |
| CPD Accreditation #CPD-0285-20 | 1.5 CPD Point(s) |
Learning objectives: 
By the end of this lecture, delegates will have a better understanding of:
Treatment stages and General Guidelines in Complete Denture Prosthodontics
The Biofunctional Prosthetic System (BPS) Technique
Complete Denture Occlusion, Measuring Occlusal Vertical Dimension (OVD), Registration of Centric Relation (CR), Gothic Arch Tracings, Complete Denture Occlusal Schemes and Occlusal Adjustment
Management of Combination Syndrome, Denture-Induced Stomatitis and Flabby Ridge
Implant‐Supported Overdentures Using Different Attachment Systems Including Magnets, Balls, Bars, and Locators.
Meet the speaker: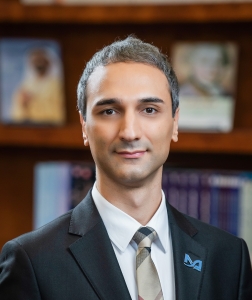 Professor Keyvan Moharamzadeh, is a newly appointed Professor of Endodontics at Hamdan Bin Mohammed College of Dental Medicine (HBMSDM), Mohammed Bin Rashid University of Medicine and Health Sciences (MBRU). He was previously a Senior Clinical Lecturer at the University of Sheffield and Honorary Consultant in Restorative Dentistry at Charles Clifford Dental Hospital, United Kingdom. He is a registered Specialist in Endodontics, Periodontics, Prosthodontics, and Restorative Dentistry in the UK and was the programme director for postgraduate DClinDent periodontology and prosthodontics courses at Sheffield School of Clinical Dentistry.  His clinical work has included both private dental practice at Harley Street Dental Group in London and hospital-based treatment of patients referred by the General Dental Practitioners for advanced restorative rehabilitation. His broad level of clinical interest includes aesthetic dentistry, periodontics, implantology, prosthodontic management of compromised dentition and using advanced technology to improve the outcome of endodontic treatment to the point of authoring a comprehensive evidence-based clinical reference book on "Diseases and Conditions in Dentistry". Professor Moharamzadeh is a Fellow of the Royal College of Surgeons of England and the UK Higher Education Academy. He is also well-known for his multidisciplinary internationally recognised research in the field of biomaterials, tissue engineering and implantology, and has edited a textbook on "Biomaterials for Oral and Dental Tissue Engineering". He holds an honorary research position in Marquette University in the United States, has extensively published in the literature and has given many presentations and invited lectures in the national and international conferences.