Topic: Enhancing Patient Care – Judicious Implementation of CBCT in Your Practice
Abstract
Cone Beam Computed Tomography, commonly referred to as CBCT, is a diagnostic imaging modality that has found an ever-increasing use in dental practice. A mainstay imaging modality of many specialty practices, CBCT now has an increasing role as an alternative imaging modality in some cases in general dentistry practices as well. However, as is the case with every new technological advancement in healthcare, the best practice is to consider the available scientific evidence for optimal patient care. This talk will present a brief introduction of CBCT technology and an overview of the scientific evidence evaluating CBCT imaging. Clinical cases from general dentistry and specialty practices will be presented as examples where CBCT imaging significantly enhanced patient care.
| | |
| --- | --- |
| CPD Accreditation CPD-0218-20 |  1.5 CPD points |
Meet the speaker
Dr. Jahanzeb Chaudhry, Associate Professor of Oral and Maxillofacial Radiology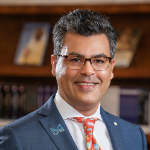 Dr. Chaudhry is board-certified in Oral and Maxillofacial Radiology; a Diplomate of The American Board of Oral and Maxillofacial Radiology. He holds active Consultant licenses in Dubai, and in New York and Ohio, USA. Prior to joining MBRU and Dubai Dental Hospital, Dr. Chaudhry was an Associate Professor of Oral and Maxillofacial Radiology and Director of CT Imaging Center at Indiana University, Indianapolis, USA.