Advanced Cardiovascular Life Support (ACLS)
Description
HeartCode ACLS is the American Heart Association's blended learning delivery method for the AHA's ACLS Course. Learners first complete the online portion of HeartCode ACLS and then complete a hands-on skills session and practical exam at Khalaf Ahmad Al Habtoor Medical Simulation Center.
This course builds on the foundation of lifesaving BLS skills, emphasizing the importance of continuous, high-quality CPR. This advanced course highlights the importance of high-performance team dynamics and communication, systems of care, recognition and intervention of cardiopulmonary arrest, immediate post-cardiac arrest, acute dysrhythmia, stroke, and acute coronary syndromes (ACS).
Learning Objectives:
By the end of this course, participants will be able to:
Demonstrate basic life support skills, including effective chest compressions, use of a bag-mask device, and use of an AED
Recognition and early management of respiratory and cardiac arrest
Recognition and early management of peri-arrest conditions such as symptomatic bradycardia, tachycardia
Perform basic airway management
Identify management of ACS and stroke
Demonstrate effective communication as a member and leader of a resuscitation team
Secure AHA ACLS Course completion card and certificate
Is this course for me?
Healthcare professionals who either direct or participate in the management of cardiopulmonary arrest or other cardiovascular emergencies. This includes personnel in emergency response, emergency medicine, intensive care, and critical care units such as physicians, nurses, and paramedics.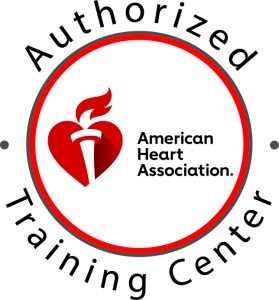 AHA Disclaimer
The American Heart Association strongly promotes knowledge and proficiency in all AHA courses and has developed instructional materials for this purpose. Use of these materials in an educational course does not represent course sponsorship by the AHA. Any fees charged for such course, except for a portion of fess needed for AHA course materials; do not represent income to the AHA.
Back