As part of Healthcare Simulation Week 2020, MBRU's Simulation Center, The Khalaf Ahmed Al Habtoor Medical Simulation Center,  is organizing #MBRUSIMCONNECT2020 from September 13- 20, 2020. Activities will include virtual scholarly interactions, and competitions to:
Raise awareness about the importance of healthcare simulation in improving the safety, effectiveness, and efficiency of delivery and outcomes.
Celebrate healthcare professionals including but not limiting to simulation operations specialists ,technologists, researchers, educators, etc.,  advocating for  simulation in education, practice and research.
Foster collaboration across the global healthcare simulation community.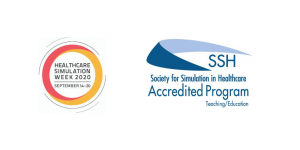 Sunday, September 13, 2020

12:00 pm – 1:00 pm

Inagural Ceremony

Sunday, September 13, 2020

2:00 pm – 4:30 pm

Attend the Scientific Session – Short Communications, Simulation Based Education. Click here to view agenda.