How does it work?
The main activity of the CGD is to recruit undiagnosed pediatric patients with suspected hereditary disorders where clinical genomic testing – such as whole exome sequencing and/or chromosomal microarrays – did not identify any definitive genetic etiology.  Researchers will then interrogate the negative genetic data, for those patients, for any possible novel findings. Functional experiments will be designed to characterize any novel candidate genes or mutations, to establish new gene disease associations, and to explore potential therapeutic targets. Ultimately, CGD's main goal is to make novel genetic discoveries in the pediatric patient population in the UAE and the Middle East, and to leverage such discoveries to develop new diagnostic tools and to uncover personalized pathways to restore 'normal' phenotypes in affected patients. Therefore, all such interdisciplinary activities – including patient recruitment, genomic data analysis, and functional characterization – cannot be undertaken in the absence of the CGD, and its founding institutions.
Why is this important?
Uncovering the cause of a genetic disease in any patient will support more appropriate clinical management and avoid unnecessary, and costly medical interventions. In addition, certain genetic mutation might be amenable for targeted therapies which are continuously evolving especially with the advances in gene-editing tools, and targeted gene therapies. Furthermore, knowledge of the specific disease gene will help counsel the family about recurrence risks for future pregnancies and will also promote preventive ways to avoid the recurrence of such disorders. Finally, the CGD will contribute to the annotation and characterization of the genomic landscape of disease in the UAE which will then possibly guide public health genetic screening programs (premarital, preconception, newborn) to decrease or eliminate the burden of genetic diseases in the UAE.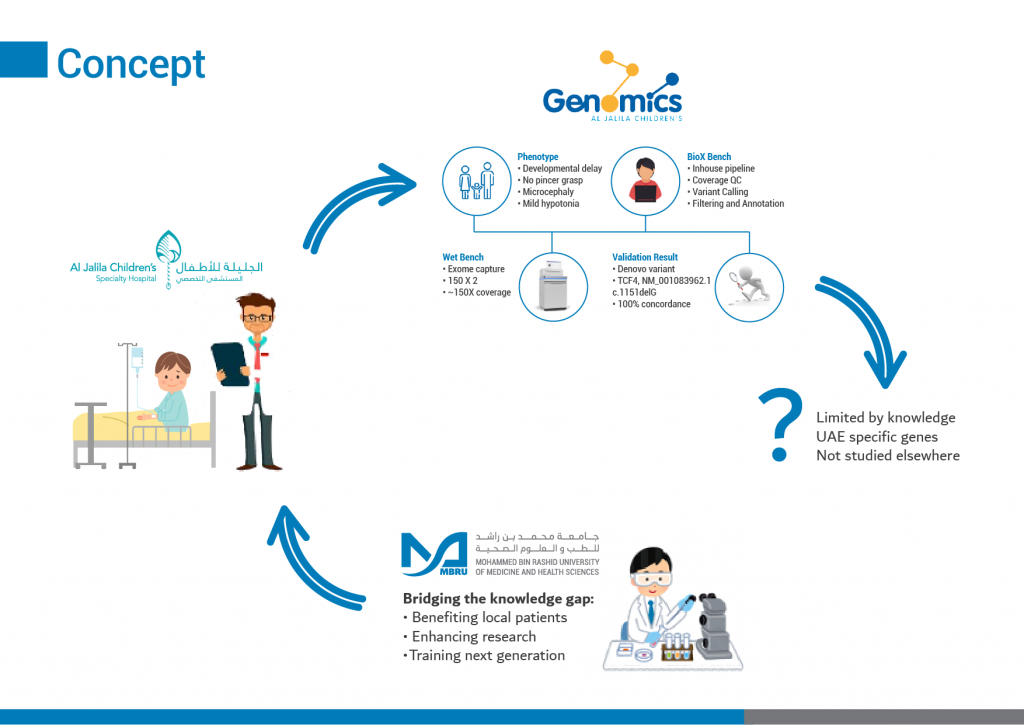 Resources
The Center strategically builds upon the existing infrastructure and human resources and expertise currently within AJCH and MBRU.  AJCH is the first and only pediatric tertiary hospital in the UAE, and houses a state-of-the-art genomic diagnostics facility which includes high-throughput genomic sequencing core, high-speed bioinformatics pipelines, and well-trained staff specialized in molecular biology, molecular genetics, computational biology, genomic data analysis and genetic counselling. MBRU is also home to state-of-the-art research labs equipped for conducting sophisticated molecular, biochemical, and cellular research supervised by highly talented faculty members. In addition, the Center leverages the unique pediatric patient population seen and managed by skilled western board-certified pediatric consultants at AJCH. It is important to note that Dubai is home to a highly diverse population whose genetic architecture has not been well studied elsewhere in the world. This sets the Center up for novel genomic discoveries which cannot be made elsewhere.