We would like to announce the second annual Mohammed Bin Rashid University of Medicine and Health Sciences (MBRU) Symposium on Medical Education. Training the next generation of health professionals has taken on new meaning as we adapt to new challenges of a world-wide pandemic and economic hardships.  This fall marks the launching of clinical rotations for new 4th and 5th year medical students at MBRU, with the essential collaboration of both old and new clinical partner institutions: – Mediclinic Middle East, Al Amal Hospital, Al Jalila Children's Specialty Hospital, Moorfields Eye Hospital Dubai, DHA Latifa Children and Women's Hospital, and DHA Rashid Hospital.  The 5th year student rotations will include electives at additional partnering institutions, including Danat Al Emarat – Abu Dhabi & Kings College Hospital – Dubai.  This fall also marks the launching of the new MBRU College of Nursing and Midwifery, featuring two Master's degree programs in cardiovascular nursing and pediatric nursing.  Last, the Hamdan Bin Mohammed College of Dental Medicine has started a new academic year after graduating 102 specialists in Dental Medicine to date. The current challenges have emphasized the importance of our commitment to creating strong, resilient, and well-trained graduates.
The purpose of the MBRU Medical Education symposium is to INSPIRE through innovative plenaries to illuminate the exciting challenges and opportunities for teaching our future health care providers, and to further DEVELOP teaching skills through practical workshops and certified micro-courses (ACE Program) and finally continue to foster an MBRU Community of Clinical Educators through networking and sharing of best practices.
We are privileged to have our distinguished expert in Medical Education speaking at the Symposium.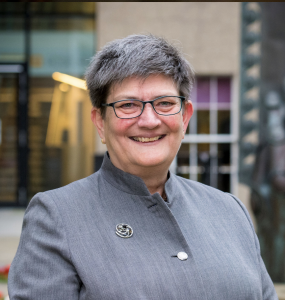 Katharine Boursicot BSc MBBS MRCOG MAHPE NTF SFHEA FRSM, is Associate Dean for Assessment and Progression at Duke-NUS Medical School, Singapore.
She graduated from the University of London with an Honours BSc in Anatomy and MBBS from the Medical College of St Bartholomew's Hospital, and worked as a Consultant Obstetrician and Gynaecologist at St Thomas' and St Bartholomew's and Homerton Hospitals in London, with an Honorary Reader position at Barts and The London School of Medicine and Dentistry.
After studying at the Institute of Education in London, she became a full time medical educationalist, gaining experience and expertise in medical education; she led the reform of assessment at the undergraduate medical schools at Barts and the London, Cambridge University, St George's University of London and the Lee Kong Chian School of Medicine in Singapore.
Katharine has advised on numerous national and international initiatives including several Royal Medical Colleges in the UK, the Colleges of Medicine of South Africa, the Association of Veterinary Schools in the UK, the General Medical Council, the General Dental Council, the Osteopathic Regulator, the Lawyers Regulatory Council, the Australian Dental Council, the Royal Pharmaceutical Society, and has held visiting Professorships at the Karolinska Institute, Stockholm, the University of Helsinki, the University of Hong Kong, Universitas Indonesia, Cyberjaya University & the University of Malaya, Malaysia and the University of Amman, Jordan.